How to Play DVD on Laptop?
2019-03-18 20:52:39 Posted by Gabriel
4885
Summary: Do you want to enjoy your DVD movies on your laptop? Here are the tools and methods for you to watch DVDs on your laptop freely.
The Most Complete DVD/Blu-ray/4K UHD Solutions
DVDFab 11 offers the world's most complete DVD, Blu-ray and 4K Ultra HD Blu-ray backup solutions to help users make home backups to their DVDs, Blu-ray, and 4K Ultra HD Blu-rays in the ways they prefer.
DVDs are one of the best portable storage options for media and other files. As you know flash drives are more prone to viruses, DVDs are better to use. CDs cannot be used for bigger files because they have low storage.
If you have one or more movies stored in the DVD, and you want to play it, you must want to use the best DVD player to enjoy the movie with a great experience.
In this article, we will be explaining how to play DVD on the laptop.
Method 1: Play DVD with DVDFab Player 5
DVDFab Player 5 is an awesome media player that is able to play all types of DVDs as well. When DVD is inserted, and you launch this player, it automatically fetches the DVD and shows on its UI. So that you can play that DVD in just one click.
Features of DVDFab Player 5:
· It supports a number of audio/video formats, containers, Codecs, etc. that make this player is the most desirable nowadays.
· Automatically displays DVD content on its UI when it is launched. Hence, DVDs are one click away to play with it.
· Clean yet professional looking UI.
· PC and TV playback modes.
· Navigation menus while playing DVDs, Blu-rays and 4K Ultra HD Blu-rays.
· 3D playback is supported.
· HDR10 playback mode allows you to watch videos in crystal clear quality.
· Thumbnails of the movie for different timings are shown so that you can click on any thumbnail to watch that particular scene.
· The customizableplaylist is there.
· High-qualityaudio output.
How to Play DVD on Laptop Windows 10 using DVDFab Player 5
First of all, download DVDFab Player 5. Once the download completes, run the setup file, and install it on your PC.
Now, insert the DVD to the DVD drive of your laptop. Now, launch DVDFab Player 5 just by double-clicking on its icon from the desktop. Now, click "PC Mode".
If there is no DVD in the drive, you will see a big + icon in the interface only. But, since DVD is inserted, you will see DVD preview right there on the UI as you can see in the above screenshot.
Now, when you mouse over it, you will see play option there.
So, all you have to do is to click this Play icon to play the DVD in this player. After clicking, it will take a few moments to play the DVD in the player. In some time, you will see the contents of the player.
You can click on any part to play. You can see the media controls to manage the video-play.
Thisis how to play DVD on a laptop using DVDFab Player 5.
Method 2: How to Play DVD on Laptop using VLC Media Player
VLC Media Player is an awesome media player is a hell lot of features and options. Playing DVD with VLC is a great option.
Features of VLC Media Player:
· You can play any types of CDs, DVDs, online Videos, local videos, etc. effortlessly.
· Despite offering a lot of features, VLC is completely free to use.
· You can also convert media files from one format to another.
· You can set streaming video as desktop background.
· You can capture photos from streaming videos.
· You have lots of media controls that you can use to enhance your video watching experience.
First of all download VLC Media Player from its official website. Then install it on your PC using the downloaded setup file.
Now, insert the DVD into the DVD drive of your Laptop.
Launch VLC Media Player. Then go to Media >> Open Disc
Now, you will see more details.
You don't have to do anything here. Just click Play.
You will now see the contents of the DVD are showing in the VLC. You can click any part of it to play. That's it.
Thisis how to play DVD on HP laptop or any other laptops like Asus, Dell and more using VLC Media Player.
Method 3: Rip it With DVDFab DVD Ripper and Then Play using Any Player
DVDFab DVD Ripper is a versatile DVD ripping software program that can read any DVD/ISO/folders and rip them to any video format that you want. And, the ripped video will be saved to your PC. Now, you can play the Ripped video in your existing player.
The whole idea of ripping is that if your player doesn't support the DVD content, then you can use DVDFab DVD Ripper to rip the DVD to the desired format, and then play with your existing video player.
Features of DVDFab DVD Ripper
· It can read DVD disc (2D & 3D), DVD folder, and DVD ISO image file and rip them to almost all video formats. Additionally, it also rip them to various audio formats.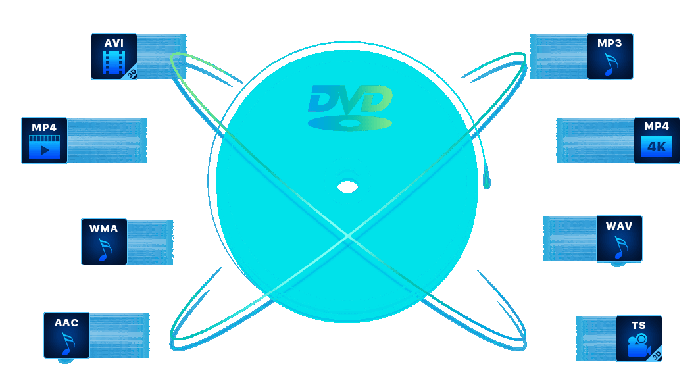 · This software program is robust and powerful. You have good control over the output file as you can make many edits the way you want.
· Ripping process is quick.
· Output video is of high quality.
· 30 days trial is offered so that you can try it for free for 30 days, and then make the buying decision.
Steps to Rip DVD
First of all, download DVDFab DVD Ripper, and then install it on your computer. Make sure; the DVD is inserted into the DVD drive of your laptop.
Now, launch the DVD Ripper, and on the UI, click Ripper.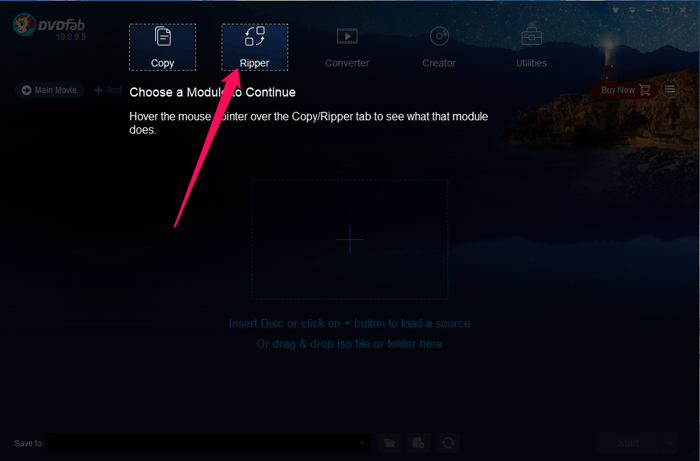 Now, go to profile selection, and choose any of the video formats that you want. For example, we chose MP4.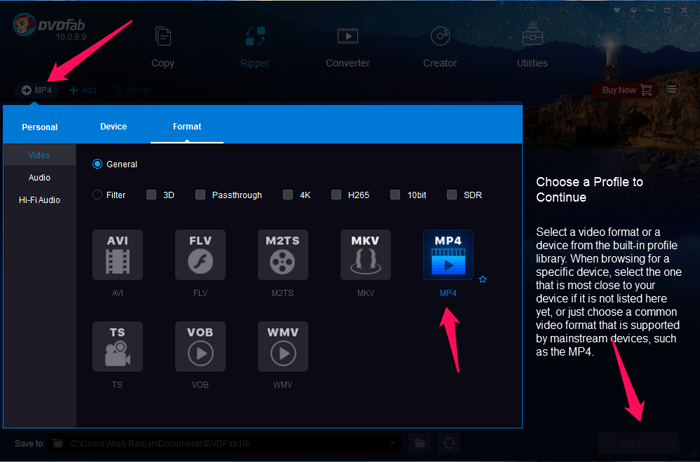 Then before clicking the "Start" button, you can choose the titles, chapters and subtitles you want, change the title name and you can also click the "wrench" icon to customize your settings and use the built-in editor to edit your video.
Then Click Start to rip.
You can see a window that shows the time that needs to be taken to rip the DVD.
In some time, the process will be completed, and the output video will be now saved on our PC as MP4 video which you can play with any video player.
Conclusion
There are tons of DVD and video players, but the thing is not all offer the great experience by offering tons of features. That is the reason we introduced you to DVDFab Player 5 which offers awesome experience of your DVD-play.
Moreover, VLC is good too. If there are any issues about playing your DVD on your existing player, you can rip it with DVDFab DVD ripper in a desirable format and play.
So, next time if you have a question in your mind how do I play a DVD on my laptop; visit this article to get the answer.
The best DVD ripping software that can quickly rip and convert a DVD to any mainstream audio & video formats for playback on PCs, portable and mobile devices.